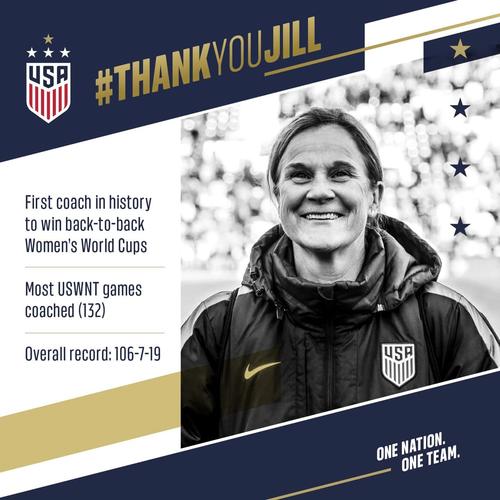 The Head of Timothy Dwight College, Mary Lui, has announced the Chubb Fellow for the Spring 2020 semester is Jill Ellis, former head coach  of the U.S. Women's National Team.
The Spring address was postponed, but she will deliver the Chubb address  at a date and location on campus to be announced.  A post-lecture reception with Yale and New Haven dignitaries and special guests will take place at the Head of College House in Timothy Dwight College.  A formal dinner with university students will follow in the Timothy Dwight College dining hall.
Jill Ellis was appointed the Head Coach of the U.S. Women's National Team in 2014 after serving as an Assistant Coach beginning in 2008.  During her tenure as Head Coach, she was twice named the World Coach of the Year by Fédération Internationale de Football Association (FIFA).  This past summer, the nation and the world watched with great excitement as the U.S. Women's National Team won the World Cup and Ellis became the first coach in history to win 2 Women's World Cups.  As Jill Ellis transitions from her role as coach to ambassador for the U.S. Soccer Federation, she will bring her formidable leadership skills to communicate, lead, guide, and develop the sport from off the field.  We are all eager to hear about her new undertaking and the exciting challenges and opportunities ahead for women in professional sports. 
 
A wonerderful account of Coach Ellis' accolades can be found at:  https://www.ussoccer.com/stories/2019/10/jill-ellis-farewell-to-the-winningest-coach-in-us-soccer-history
More information about the 2020 Spring Chubb Fellowship Address will be announced soon.