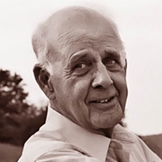 Poet, Philosopher, Environmental Activist, Cultural Critic and Farmer
Poet, novelist, philosopher, environmental activist, cultural critic, and farmer Wendell Berry will present the next Chubb Fellowship Lecture as a guest of Timothy Dwight College and the Yale Sustainable Food Project (YSFP). A pioneering and influential advocate for change, Berry has spent more than 50 years helping to shape the movements for agricultural and ecological sustainability. His poetry and essays flow from the rich agrarian tradition of American writing, and Berry's relationship to his Kentucky farm has been compared to that of Thoreau's to the forest — a place that nurtures his thinking about the value of physical labor, self-sufficiency, and communities of people living in harmony with the natural world.
Berry has garnered international respect and admiration for all aspects of his life's work, winning the T.S. Eliot Award, the 2000 Poets' Prize, the Thomas Merton Award, the Aiken Taylor Award for Modern American Poetry, the John Hay Award, the Art of Fact Award for non-fiction, the Cleanth Brooks Medal for Lifetime Achievement, The National Humanities Medal and the Russell Kirk Paideia Prize, among many others. He was inducted into The American Academy of Arts and Sciences in 2013.
A prolific author, Berry has generated dozens of novels, short stories, poems and essays since publishing his first novel, titled "Nathan Coulter," in 1960. Some of his other well-known works are the "Port William" stories and novels, "The Unsettling of America: Culture and Agriculture," "A Place on Earth," "A Continuous Harmony," "What are People For," "The Broken Ground: Poems," "The Art of the Commonplace," "Life is a Miracle," and "The Country of Marriage."
In addition to his public conversation on Saturday, December 7, Mr. Berry's Chubb Fellowship visit to Yale will include private events jointly hosted by the YSFP, Yale Divinity School, and Yale School of Forestry & Environmental Studies.
Berry expressed particular interest in learning about the Yale Farm from the students engaged in study there, saying, "It's good that schools like Yale have a farm, and I'd like to see it and give what encouragement to it I can."
"Mr. Berry's sentences are exquisitely constructed suggesting the cyclic rhythms of his agrarian world."  New York Times Book Review