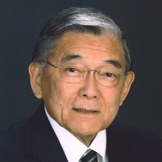 Secretary of Transportation
Secretary Norman Y. Mineta, has a distiguished career as a innovative leader in the fields of transportation, commerce, public policy, and technology. Secretary Mineta serviced in the U. S. House of Representatives for 20 years.  He was appointed Secretary of Commerce by President Bill Clinton, and went on to serve as Secretary of Transportation under President George W. Bush.
For almost 30 years, Secretary Mineta represented San Jose, Calif. as a public servant — first on the City Council, then as Mayor, and then from 1975–1995 as a Member of Congress. During his time serving the Silicon Valley area, he was a pioneer in helping the tech sector engage in public policy. While in Congress, he also served as the Chairman of the House Transportation and Public Works Committee from 1992–1994, after having chaired the Subcommittee on Aviation and the Subcommittee on Surface Transportation.
In 2000, President Bill Clinton appointed Secretary Mineta as the United States Secretary of Commerce. At the Department of Commerce, Secretary Mineta was known for his work on technology issues, for achieving international cooperation and intergovernmental coordination on complex fisheries issues, and for streamlining the patent and trademark process.
From 2001-2006, Secretary Mineta served as Secretary of Transportation under President George W. Bush. In this capacity, Secretary Mineta issued the notable order to ground all civilian air traffic on September 11, 2001. Following the events of September 11, he guided the creation of the Transportation Security Administration — an agency with more than 65,000 employees - the largest mobilization of a new federal agency since World War II. Mineta was also a vice president of Lockheed Martin, where he oversaw the first successful implementation of the EZ-Pass system in New York State.
A graduate of the University of California, Berkley, Secretary Mineta served on the Smithsonian's Board of Regents from 1979 through 1995 and supported the establishment of the Smithsonian Asian Pacific American program in 1997. He has been a lifelong champion of civil rights and, as a son of Japanese immigrants, spent time during World War II at an internment camp in Wyoming.
Recognized for his leadership, Secretary Mineta has received numerous awards, including the Presidential Medal of Freedom — the nation's highest civilian honor — and the Wright Brothers Memorial Trophy, which is awarded for significant public service of enduring value to aviation in the United States.