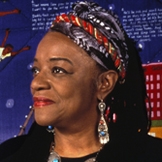 Born and raised in Harlem, New York City her career as an educator, artist, and activist spans more than half a century. In the 1960s as an art teacher in the New York City public schools, she began a series of paintings called American People that portrayed the Civil Rights movement from a female perspective. She also organized and fought for works of African American and women artists to be included into museums and galleries. In the 1980s, she embarked on projects that employed the medium of the "story quilt" rooted in African American communal traditions of quilting and storytelling that have been critical for connecting family stories and lives across many generations. Works such as the 1988 Tar Beach (Part I from the Woman on Bridge Series) in the Solomon R. Guggenheim Museum's permanent collections, make up some of her best known masterpieces from this period.
Faith Ringgold has also produced numerous public art works including: Flying Home: Harlem Heroes and Heroines for the Metropolitan Transit Authority's 125th Street subway stop; For the Women's House for the Rose M. Singer Center on Rikers Island; The Crown Heights Children's History Quilt at Public School 22 in Brooklyn, New York; and many others across the country.
Since the 1990s she has also written and illustrated many acclaimed children's books such as Tar Beach that was a Caldecott Honor Book and winner of the Coretta Scott King Award. She has helped young readers explore African American history through  Aunt Harriet's Underground Railroad in the Sky. Dinner at Aunt Connie's Househonors Civil Rights activists Fannie Lou Hamer, Mary McCleod Bethune, Zora Neale Hurston, and many more famous Black women. If a Bus Could Talk: The Story of Ms. Rosa Parks won the NAACP's Image Award in 2000.
The recipient of more than 75 awards, including 22 Honorary Doctor of Fine Arts Degrees, she has received fellowships and grants from the National Endowment For the Arts, John Simon Guggenheim Memorial Foundation, La Napoule Foundation, New York Foundation For the Arts, and many more for painting and sculpture. She is professor emeritus at the University of California, San Diego where she taught art from 1987 to 2002. She currently lives and works in Englewood, New Jersey.